Porcelain Veneers are a Quick and Affordable Way to Get a Bright White Beautiful Smile that Boosts Your Self-Confidence and Gets You Noticed
By Dr. Ken Cirka — Philadelphia Dentist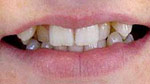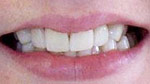 Do your need a complete smile makeover? Are your teeth chipped, crooked, stained or have gaps in between them?
Porcelain veneers can change your smile "overnight" giving you a fantastic, natural-looking "smile makeover" that will enhance your appearance and get you noticed.
Before and After Porcelain Veneers:


How Porcelain Veneers Work:
Dr. Cirka provides a quick and affordable way to achieve an attractive smile that looks completely natural and is sure to impress. Porcelain veneers are thin porcelain onlays for repairing teeth that are chipped, discolored or even misaligned.
Porcelain veneers are thin "tooth coverings" made from either porcelain or a resin composite and used to improve your smile with many cosmetic applications including:
Repairing chipped or cracked teeth
Filling unsightly spaces between teeth
Making teeth even and uniform
Teeth whitening by covering severe discoloration or dullness

Porcelain Veneers Offer You Many Benefits:
You Get a Fantastic, Natural-Looking Smile — Porcelain veneers will enhance your appearance while looking completely natural. You'll have a new sense of self-confidence and want to show off your new smile to the world!
It's Fast — With porcelain veneers you can get a complete "Smile Makeover" in just 2 visits to our Philadelphia office. You'll have an attractive new smile fast without having to go to the dentist month after month during a long procedure.
Straighten Crooked Teeth — Your teeth can be corrected and straightened to produce a more perfectly aligned smile. You won't have to hold back your smile anymore. You'll feel great about smiling.
Remove Unsightly Gaps — If you have embarrassing gaps between your teeth, they can be easily closed with porcelain veneers.
Strengthen Your Teeth — Teeth which have been weakened by old or broken fillings can now be strengthened with porcelain veneers so you can eat and chew with confidence and without pain.
Remove Permanent Stains — Porcelain veneers can be used to eliminate stains caused by soft-drinks, nicotine, and antibiotics to give you an attractive bright white smile that gets you noticed.
What Are the Costs of Porcelain Veneers?
Porcelain veneers run between $5500 and $10,500. The value is in your new smile that people will notice! Plus, we offer affordable payment plans with financing is as low as $125 per month to help you make your dynamite smile a reality that lasts a lifetime.
Contact us today for your free consultation and we'll discuss your options regarding porcelain veneers and our affordable financing options. We look forward to answering all your questions about Porcelain Veneers.
How do I get started?
Dr. Ken Cirka and the Dental Staff at Philadelphia Cosmetic Dentistry are happy to discuss Porcelain Veneers with you and answer your questions. Please feel free to call 215.568.6277 for your free private consultation or schedule an appointment online.