Is it accurate to say that you are worn out on having crowded or gapped teeth? We have a solution for you. During the whole month of April, we are offering an incredible Invisalign deal! Our deal incorporates $500 off a bought Invisalign treatment! Now is the best time to capitalize on this astonishing deal and feel confident with your teeth once more.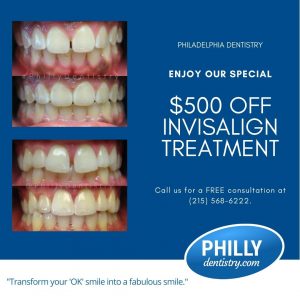 Invisalign accommodates your life without intruding on it! Living with Invisalign makes hardly any adjustments in your everyday life. For example, you can keep on appreciating the entirety of your preferred foods and drinks, as you don't have any wires or brackets. Moreover, not having wires or brackets will permit you to floss and brush as you normally would.
At each phase of Invisalign, you will have the option to see your smile improvement as it changes. If you have been discontent with your teeth, this treatment can give you back your certainty. Call us at (215) 568-6222 to plan your new patient free consultation. During your free consultation, we will talk about the best treatment plan for you. We anticipate seeing you soon and changing your 'alright' smile into an impressive one!