Philadelphia Dentistry is proud to have won the 2018 Spectrum Award for excellence in customer service. By winning this award Philly Dentistry earned a rating of 5 out of 5 stars. This generous award was presented to Philadelphia Dentistry by City Beat News. The Spectrum Award is only given to businesses who have demonstrated excellence in customer service in their business and or industry. The way City Beat News awards the winner is by researching the overall customer satisfaction performance of businesses across the country. They use an exclusive algorithm that provides an unbiased rating for the year. City Beat News only selects businesses earning the highest rating for excellence in customer service.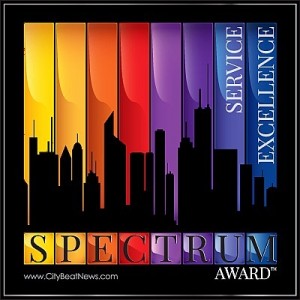 Here at Philly Dentistry we pride ourselves on customer service. Our patients love to give us feedback with 5-star reviews and video testimonials. We love helping the beautiful city of Philadelphia become happy and healthy one smile at a time! Here are a few recent reviews left by our patients to let us know how their experience was at Philadelphia Dentistry.
Erica F. "Amazing customer service, awesome pick if you're looking for cosmetic work, or just a new dentist for general work! Extremely transparent regarding costs and any questions you may have. The staff treated me like I had been a client for years. I had multiple dental appointments for cosmetic work and I felt so comfortable calling and asking questions, I probably got on their nerves! But I felt like I was calling friends! Good work Philly Dentistry, customer service really is key."
Rebecca M. "I would give 10 stars if I could. Three times I have had emergency issues with my teeth. They rushed me in immediately all times, even the first time when I was a new client who they'd never seen before. The follow up dental work each time was superb. They are masters at dentistry and are persistent about getting your smile looking as best as possible; they are not happy until you're happy. Dr. Meier is so sweet, a fantastic dentist and is wonderful at explaining things. Patrice is also a total rock star, as well as the rest of the staff. I have recommended them to friends in the past and would highly urge anyone looking for a new dentist, for either cosmetic or general dentistry to them!"
Jose C. "Within only a few minutes after applying online for a free new client exam, I received a call from the dental office receptionist who happily scheduled my free exam for that very same day! Just through that small interaction, I knew that my quest to find a good dentist was over! I was greeted with such a warm welcoming and was seated for my exam within only 5 minutes of waiting! Dr. Cirka looks into every possible form of treatment before deciding what is ultimately best cosmetically and functionally for his clients; this process is very personalized. I love how passionate Dr. Cirka and his team are in providing the best dental care there is. I would recommend Philadelphia Dentistry anytime!"
For 15 years Philadelphia Dentistry has made it our goal to make our patients feel comfortable and at ease. We are highly dedicated to giving you the best dental care in Philadelphia with our three accomplished doctors and amazing staff. If you are not a patient of ours yet feel free to give us a call at 215-568-6222 and schedule a free new patient consultation to receive the best dental care in Philadelphia.