Missing teeth can make you feel self conscious when meeting new people, talking in front of large groups and even eating.  In addition to feeling self conscious, oral health problems can arise as well.  Not to worry, here at Philadelphia Dentistry we offer a variety of cosmetic procedures to aid the appearance of missing teeth such as dental implants.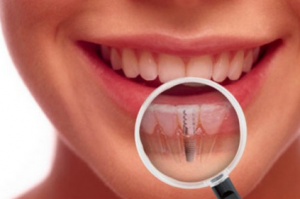 Dental Implants are artificial tooth "roots" that are surgically placed in your mouth made from metallic and ceramic materials suitable for your jaw and help support crowns, bridges and even dentures.  "This procedure for patients has come a long way over the years" says Dr. Cirka.  "In just three visits a few months apart, you can have a beautiful, natural- looking tooth."
What are some advantages of implants?
Over the years implants have become more and more popular.  Currently there are more than 5.5 million implant procedures done annually in the US.   Here's why they have become so popular: