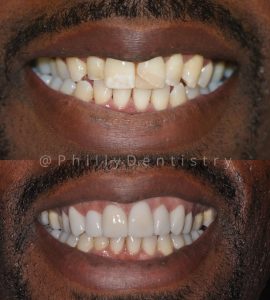 If you are unsatisfied with the color of your teeth, you've probably tried buying Crest whitening strips, drugstore whitening gels, whitening toothpaste, etc. If all of these options have failed, you might have started to consider professional whitening. The first thing you should do is book a visit with your dentist to find out if you are a good candidate. Sadly, not everyone is a good candidate for professional teeth whitening. Some people are born with naturally duller teeth. In this case, no whitening treatment can fix that. However, there's good news. We have a quick solution that will give you a perfect smile. Let's talk about porcelain veneers.
Quick Solution
Porcelain veneers are known for being a fast fix to achieving a perfect smile. In only two visits, our team can take your smile from 'OK' to Fabulous! If your teeth are uneven, porcelain veneers can fix that. Any gapping you have can be closed up with porcelain veneers. If you have weaker teeth, porcelain veneers are proven to give your teeth more strength. Lastly, you can pick the shade you want for your veneers, so your smile can be as bright or dull as you please. The days of having a dull smile as in the past, say hello to your dream smile!
Longlasting
With proper care, porcelain veneers last longer than bonding or whitening. How long do they last? All veneers are natural-looking and can last for up to 15 to 20 years! Despite appearing natural, they don't undergo the same effects as natural teeth over time. Porcelain veneers are resistant to stains and chips and won't change color over time.
Maintenance 
So, proper care is important, but what exactly does proper care entail? We have good news. Nothing about your regular oral hygiene needs to change. Porcelain veneers should be treated just like your natural teeth. You need to visit the dentist twice a year for a professional cleaning and dental exam. Also, make sure to brush and floss your teeth. It's important to brush and floss every day to keep your teeth healthy and properly cleaned. In summary, there is no special treatment needed for maintaining porcelain veneers. Continue to live your life and practice your normal oral hygiene.
Let's Do It
Come in for a free new patient consultation and let's talk about a treatment plan. We want you to feel confident about your smile. You can book your appointment by calling (215) 568-6222 and one of our awesome team members will get you set up. Do you want to see before and after photos? Check us out on social media. We are on Twitter, Facebook, and Instagram! We post cool stuff and love connecting with our patients, so let's get social!