If you haven't heard of the new way of straightening your teeth rather than traditional braces, then you need to hear about Invisalign. Invisalign aligners are designed to straighten your teeth like conventional orthodontics, without the metal brackets and wires. Philadelphia Dentistry develops the aligners from the x-rays, scans, photographs, and an evaluation of your bite. The number of aligners and the length of time are determined by the treatment plan developed specifically for you. In only several months you can have straight, white teeth! Invisalign is the newest and easiest way to straighten your teeth in the shortest amount of time. Sounds great, right? Now, you're probably thinking how does this all work and what should I expect?
What to expect during your Invisalign appointments?

Records Appointment– This record appointment will last about 50 minutes and you will have a detailed scan of your teeth and photographs will be taken. If you do not have a current full mouth x-ray on file we will need to take a new one. Your next appointment will be in approximately 3 weeks. We will wait to schedule this appointment once we know when your case will be delivered back to our office.
First Appointment- You will receive the final instructions about the wear and care of your aligners. This appointment will last about 60 minutes and you will then place your first set of aligners and we will teach you how to insert and remove them properly. At this appointment we will also be placing tooth-colored attachments on your teeth and begin to perform any IPR (inter-proximal reduction) this is also known as slimming or slenderizing which will be discussed at your first records/ consultation appointment.
Monitoring Visits- These visits will happen every 6-8 weeks and last about 20-30 minutes to receive your next set of aligners. You will need to come with the current aligner set in your mouth. Our doctors at Philadelphia Dentistry will make sure your teeth are tracking and moving as they should in the aligners. Any IPR (slenderizing) needed will be done and new aligners will be placed. The number of monitoring appointments depends on the number of aligner sets that have been prescribed for your specific treatment plan.
Treatment Progress- This is the most important step for success of your Invisalign treatment. It is imperative that you wear the aligners as instructed. Invisalign only works when you are wearing them. It is recommended that aligners are worn at a minimum of 22 hours per day, without exception. The only time the aligners should be taken out of your mouth is when you are eating and drinking, brushing and flossing, or cleaning the aligners. You need to wear each aligner for a minimum of two weeks, or as directed by our Philly Dentistry doctors. If you notice that your current aligner is loose and no longer moving your teeth don't be worried, it may take longer for the roots to catch up with the crown of the tooth. If you miss some days for any reason just pick up where you left off and wear your aligners for a full 14 days minimum along with calling our office to give us an update.
Insertion and Removal- Each aligner is stamped with a letter and a number. For example, U for upper and L for lower. These numbers correspond to the number of the aligners in sequence. It is important to make sure you have the proper aligner in the proper number sequence as marked on each aligner. When inserting your aligners gently push over your front teeth. After, apply some pressure to the tops of the left and right molars until they snap into place. DO NOT bite your aligners into place. Make sure each aligner is all the way down and there is not any space between the edge of the tooth and the edge of the aligner. If the aligner is not fully in place your teeth will not move properly and the next aligner will be even further off. This can waste weeks of treatment and could cause you to start your treatment over with possible extra fees. To remove the aligners, first pull off equally on both sides of the back teeth, and then gently lift off of the front teeth. After removing rinse, the aligners with cold water and store in the proper container. To prevent any damage to your aligners, avoid unnecessary removal and do not use sharp objects to remove your aligners.
Retainers- Once treatment is complete, we will order your retainers. You will wear your retainers full time, like your Invisalign aligners for 6 weeks. After this time the retainers are then worn at night only. By wearing this every night your teeth will remain straight. Our doctors at Philly Dentistry recommend this, but most patients choose to wear retainers nightly for 9 months. Then after 9 months, 2 nights a week to maintain the position of the teeth. There is a chance without retainer use that your teeth can move out of place again.
Eventually, your retainers will wear out, which will result in them losing their ability to function properly, allowing your teeth to shift. You will need to replace your retainers when this occurs. The first set of retainers is included with your Invisalign fee and should last about 1-4 years. We recommend you bring your retainers with you at each cleaning appointment for us to evaluate and clean them at no charge. If you feel your teeth are shifting at all, call us so we can evaluate. New retainers will be made for you when necessary.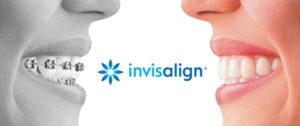 Give us a call today at 215-568-6222 to schedule your appointment to see if Invisalign is the best option for you and get that beautiful smile you've always wanted and deserve. Don't forget to follow us on Instagram as well to stay up to date with all the latest news here at Philly Dentistry.