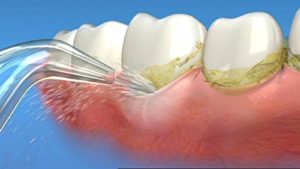 What is gum disease? The clinical term  is "periodontitis." Bacteria grows in your mouth and causes a break down of your teeth and gums. There could be a loss of bone supporting your teeth caused by an immune response to the bacteria below the gum line. Gum disease is common but also preventable for the most part. There are many symptoms of gum disease, but the most common symptom of gum disease is poor oral hygiene. Below is a list of 5 signs that point to gum disease.
Not visiting the dentist
This takes the cake for number one! The most common cause of gum disease is poor oral health, so if you aren't coming to the dentist, this applies. It is so important to see your dentist at least twice a year. Dentists are smile professionals and have all the tools to keep your mouth healthy. They will also keep you educated about what you can do at home to maintain a healthy mouth.
Experiencing bloody gums
Are your teeth bright red? This bright red color usually means that the gums are irritated. This is not a good sign and means that your gums are inflamed and infected.  This causes a pulling away from the roots of your teeth. As a result, your gums could begin to bleed frequently.
Bad breath or taste
A proper teeth cleaning involves brushing and flossing. If you are not practicing proper hygiene, food and other particles can get stuck in your mouth. This results in bacteria growth in your teeth. It is important to practice good oral hygiene so your mouth stays healthy and your breath stays fresh!
Smoking any tobacco
We all know that smoking is not healthy for our bodies. How does smoking affect your gums though? The bad habit weakens your body's immune system. So, if your immune system is being weakened, you body will have more difficulty fighting off infection. In addition, if you already have gum damage, gum restoration will only become harder to achieve.
Plaque buildup
Plaque forming on our teeth is inevitable. When consume sugary food and drinks, sticky plaque coats our teeth. If not properly cared for, this plaque can damage your tooth enamel and gums. It is important to practice good oral care to fight back against plaque buildup.
Our center city office is ready to help you improve your oral health. Give us a call at (215) 568-6222 to book your appointment to get healthy and learn more about how you can spot and prevent gum disease. To stay connected with us online, follow us on social media. You can find us on Instagram, Facebook, and Twitter!