There are many ways for losing your teeth, it can be from tooth decay, gum disease, or even injury. If you suffer from tooth loss don't be worried that you won't be able to smile confidently again. There are many different cosmetic dentistry treatments to fix your smile from tooth loss. One option is dental implants. Now, you may be thinking, what exactly is a dental implant? Dental implants are natural looking replacement teeth that perfectly match your natural teeth. They also replace the root of the tooth to offer a strong foundation. There are many benefits for getting dental implants and here are the top 5 reasons you should get that smile you deserve.
1. Improves your smile. Besides your healthy, natural teeth, dental implants are the next best option. Dental implants are made strong and durable to replace a lost tooth so it looks, functions, and feels like your natural teeth. With the proper care your dental implants can last a lifetime!
2. Easier to eat. Unlike dentures, which can be uncomfortable to eat with because they can slide around in your mouth making eating embarrassing and even painful. Dental implants are exactly like your natural teeth so you bite naturally without worrying about your teeth moving. With dental implants you can eat anything you want and feel confident about it.
3. Comfortable. Since dental implants are part of you just like your natural teeth it makes you feel comfortable, unlike removable dentures. Not only do they feel comfortable, but they make you more confident when you talk. Talking can be a struggle with dentures because sometimes it's difficult to pronounce simple words and can leave you feeling embarrassed to communicate.
4. No cavities! That's right dental implants cannot get cavities because they're a replacement tooth. Having said that, you will still need to visit your dentist for routine check-ups and cleanings. It is important to still treat your dental implant just like your natural teeth so brushing and flossing must occur daily.
5. Improves oral hygiene. Some cosmetic dentistry treatments such as, tooth-supported bridges grind away on both sides of your tooth. This damages the healthy teeth to reestablish the ones that are missing. Dental implants go all the way down to the jawbone where the missing root was, never damaging any of your healthy natural teeth. By placing a dental implant where a tooth was missing allows your teeth to not shift or move out of place. Having straight teeth allows you to easily clean them improving your oral health.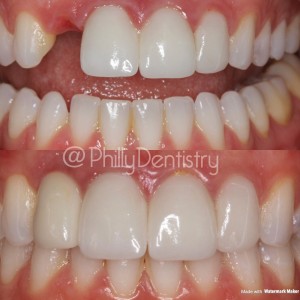 If you're missing any teeth and don't have that confidence you used to in your smile. Schedule your FREE new patient consultation with our accomplished doctors to see if dental implants are the right choice for you. Get that natural looking smile you love and deserve at Philadelphia Dentistry.