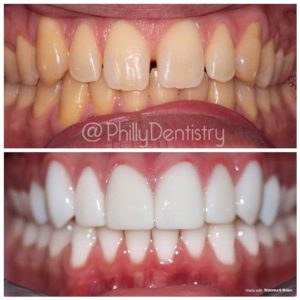 Have you always dreamed of perfect, pearly whites? During the entire month of September, take advantage of our monthly special and you can achieve your dream smile. Our special is, "Buy 6 Porcelain Veneers and get FREE Air Pods!" So, veneers sound like an extensive procedure. However, it's super easy! With only two appointments, you will be leaving with a perfect smile. As Philadelphia's Premiere Dentistry, we have done the highest amount of veneer procedures in the entire city. We're here to bring your dreams to life.
There are many benefits to getting veneers, but the best part is the simplicity of it. If you have gapped, crooked, or stained teeth, veneers are the best fix. Veneers are also known for being super durable. If you have weak teeth, veneers can actually strengthen your teeth. Veneers are almost an instant makeover from your smile. The days of waiting months, and sometimes years for results, are over. All it takes is two visits!
So if your thinking that nothing perfect lasts forever. You're right, but veneers can cover a good amount of time. When taken care of, porcelain veneers can last up to 25 years! They are so natural-looking and are resistant to chips and stains. So, what are you waiting for? Do you want to find out if veneers are right for you? Do you also want the new Air Pods? Contact us by calling (215) 568-6222. We will set you up with FREE new patient consultation and let one of our amazing doctors see if veneers are right for you.
To stay connected, follow us on social media. We love staying social with our patients and social media is where we showcase our work and get to interact. Our Instagram handle is @phillydentistry, our Twitter handle is @DrKenCirkaDMD, and our Facebook handle is @PhiladelphiaDentistry.