One of the first things you notice when meeting someone is their smile. Everyone wants that perfect beautiful smile to help with their confidence. After all, a beautiful smile is life changing, it can open new doors that you didn't think you could go through with your old smile. There are many different options at Philadelphia Dentistry for smile makeovers and one of the most popular options that can fix so many problems are, Cerniate Lumineers.
The great thing about Cerninate Lumineers are that they can solve many cosmetic problems, such as, chipped, broken, stained, gaps, crooked and small teeth. Lumineers are very similar to veneers in the sense that they fix most of the same problems. They are different from each other because of the preparation that is required to put them in. Lumineers are about as thin as a contact lens so this requires our doctors at Philadelphia Dentistry to remove less of the tooth enamel, if any before putting them in. This painless procedure which requires no need for shots takes less time than traditional veneers.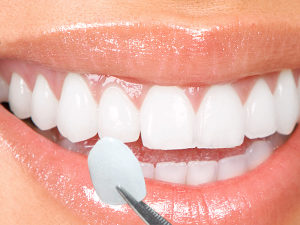 There are a great number of benefits when choosing Cerinate Lumineers, not only do you get that perfect smile you always wanted, but they are strong and last a long time. Cerinate Lumineers are made of Cerinate porcelain which is extremely strong, durable, and can last up to 20 years with the proper care. The Cerinate porcelain is also stain resistant so our patients are able to eat and drink whatever they want, including coffee and tea.
What can you expect during your Lumineers appointment at Philadelphia Dentistry? For most patients it usually takes two visits to complete the procedure. At the first visit, impressions are taken and then sent to the dental lab where they create your custom made Lumineers to fit perfectly and look just like your natural teeth. At the second visit, Dr. Cirka, Dr. Meier, or Dr. Jeon will bond the Lumineers permanently to your teeth giving you that smile you always wanted.
Give Philly Dentistry a call for a FREE new patient consultation to see if Lumineers are the right choice for you. There is no reason why you should not have the smile you always dreamed of having. By choosing to get Lumineers you are choosing the safe, pain-free solution to fix your dental needs.