Lumineers — A New Pain-Free Alternative to Porcelain Veneers that Help You Get a Fantastic, Natural-Looking Smile
By Dr. Ken Cirka — Philadelphia Dentist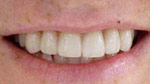 Do you want to have a perfect smile, but don't wish to have porcelain veneers applied to your teeth? Are you looking for a pain-free alternative to porcelain veneers that will give you a fantastic and completely natural-looking smile?
"Cerinate Lumineers" may be the answer you're looking for. Dr. Cirka is one of the first cosmetic dentists in Philadelphia to provide lumineers and has provided more than any dentist in Philadelphia.
Before and After Lumineers:

How Lumineers Work:
Lumineers are extremely thin veneers that provide you with a complete "smile makeover" by correcting misshapen teeth, crooked teeth, crowded teeth, broken teeth and teeth that have been permanently stained.
Traditional porcelain veneers typically require grinding down your teeth so that the veneers fit properly. The technology of these ultra-thin Lumineers require no grinding down of your teeth. Plus there is very little drilling and no needles for a pain-free smile makeover!
Lumineers can be placed over your old crowns and even help rejuvenate bridgework to create a more uniform look to your teeth so you have an attractive new smile that lasts. Lumineers are clinically proven to last up to 25 years with no shade discoloration so your teeth stay looking bright and white for decades into the future!


Lumineers Offer You Many Benefits:
Safe for Sensitive Patients — Lumineers do not require grinding down large amounts of your tooth's sensitive structure so they're safe, painless and preserve your natural teeth.
You'll Get a Complete "Smile Makeover" — Lumineers will enhance your smile and look completely natural to boost your self-esteem so you'll feel good about smiling again.
It's Fast — With just 2 visits to our Philadelphia office you'll get a complete smile makeover.
Fix Crooked Teeth — Lumineers will straighten your crooked teeth and provide you with a more perfectly aligned smile.
Eliminate Embarrassing Gaps — Lumineers can be used to close unsightly gaps between your teeth so you won't have to hold back on showing off your great new smile.
Strong Teeth — If you have weakened teeth from broken or old fillings, your teeth can be strengthened with lumineers to bite and chew with confidence and without pain.
Teeth Whitening — Lumineers can be used to whiten your teeth to provide you with a bright new smile by eliminating the stains caused by nicotine, soft-drinks and other stain inducing agents such as childhood antibiotics.
Lumineers are Guaranteed — We guarantee your Lumineers will provide a great smile and 5 years of no chipping, breaking or separating from the tooth so you get long lasting hassle-free teeth.
What Are the Costs of Lumineers?
Dental veneers run between $5500 and $10,500 and the value is in your new smile that will get you noticed! We offer easy financing plans to make the treatments affordable with financing is as low as $125 per month. Click here to apply for financing.
Contact us today for your free consultation and we'll discuss your options regarding Lumineers and our affordable financing options. We look forward to answering all your questions about Lumineers.
How do I get started?
Dr. Ken Cirka and the Dental Staff at Philadelphia Cosmetic Dentistry are happy to discuss Lumineers with you and answer your questions. Please feel free to call 215.568.6277 for your free private consultation or schedule an appointment online.