When you have teeth that are damaged or cosmetically flawed in more ways than one, the most effective and significant thing you can do is visit your dentist to find out what the best options are specially for your smile.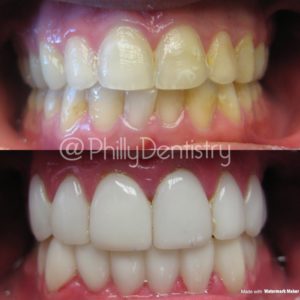 Whether it's a chip, stain, or not straight enough there's always an option for correct your smile. At Philadelphia Dentistry we offer many different cosmetic procedures to correct any smile. The most effective procedure would be porcelain veneers. With porcelain veneers if you have any type of dental problem our amazing doctors will give you that smile you always wanted and deserve! The veneers are as thin as a contact lens, but extremely strong and durable and can last up to 25 years with the proper care by visiting your dentist every 6 months for your cleaning and checkup.
Here are some specific problems and how porcelain veneers can hide these imperfections.
Stains. Almost everyone you know can't start their day off without at least one cup of coffee or you may enjoy some red wine with your meal every now and then for dinner. Whatever it may be you can't resist it and it will eventually catch up to staining your teeth. The whiteness of your teeth will eventually fade as you age along with a host of other reasons such as, poor oral hygiene and even health complications to certain prescription medications. With porcelain veneers you don't have to worry about any stains because the veneer itself can repel stains for years.
Gaps. If you have gaps between your teeth there are many ways to fix it like braces and bonding, but if you want the greatest results in the quickest time than porcelain veneers are your best option. Many times, people with gaps between their teeth are embarrassed to smile and are left covering their mouth every time they laugh. Nobody should have to feel this way. The same thing with people who have minorly crooked or overlapping teeth. Everyone thinks braces are the best options for those cases and sometimes that's right, but not always. Veneers are often times considered instant orthodontics. They hide spaces between teeth as well as crooked teeth in just two visits to our office. When the procedure is finished it will look like you have been wearing braces for years with your perfect smile.
Imperfections. Nobody is perfect and unfortunately your teeth are no exception. Your teeth may be strong and pretty close to perfect when you're young, but after years and years of wear and tear your teeth can start to look pretty imperfect. Over the years you'll experience little cracks and chips because your tooth enamel isn't as strong as it used to be. This can open the doors for harmful bacteria to get into those cracks and chips and cause cavities. Porcelain veneers hide as well as protect damaged teeth so your smile is safe and strong for years to come.
If you are too embarrassed to smile or are not completely happy with your smile, it's time for a change. Give us a call at 215-568-6222 or email us at info@phillydentistry.com and we will set up a free new patient consultation to see if porcelain veneers are the right option for you. Life's too short to be unhappy with your smile, get the confidence you deserve with porcelain veneers.