Patients will often ask Dr. Meier and Dr. Cirka, "Is chocolate bad for my teeth?" This question pops up even more often around the holiday seasons. Patients are many times surprised by the positive effects that chocolate will have on our health in general and the fact that it actually is a much better option for a sweet than sticky candies or sugary drinks.
There are a lot of positives effects of chocolate on your health overall, especially when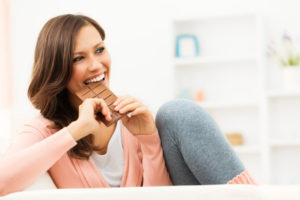 considering how eating chocolate releases endorphins. Endorphins are hormones specifically designed to help us feel good. Endorphins are released in times we are happy and doing things like exercising or eating things we enjoy.
Similar to the old adage, "everything in moderation," chocolate is fine for the teeth and the body in general when eaten in moderation. A study released in May 2016, the Maine-Syracuse Longitudinal Study, found that eating chocolate on a daily basis is proven to improve brain cognition. The research showed that over a period of eighteen years with close to one thousand participants, the group that ate chocolate daily had higher test scores than participants who did not.
Which chocolate is the best for my teeth… milk, white, or dark?
When considering which type of chocolate is best for your teeth the answer is simple. Dark chocolate is by far the better option. When we look at the sugar content of the three main types of chocolate, on average white chocolate has 17 grams per ounce, milk chocolate has 15 grams per ounce, and dark chocolate has 14 grams per ounce. While these numbers may not seem very different, as time goes by it adds up and the more sugar you have the more at risk you are for cavities and dental problems.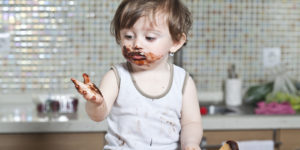 When you look into what the ingredients are for different types of chocolate you will find that milk chocolate and white chocolate both have more sugar, powdered milk, and harmful ingredients than dark chocolate. What's more is that dark chocolate comes in different ways and the more raw and organic it is, the better it will be for your teeth and your health.
Believe it or not, some studies show dark chocolate to be a fighter against cavities. There is a compound in dark chocolate called a polyphenol. This compound has been shown to fight bacteria in the mouth by preventing sugars from turning into acids. This stops the process of the enamel breaking down the teeth which leads to cavities.
Dark chocolate also contains another compound known as a flavonoid. These flavonoids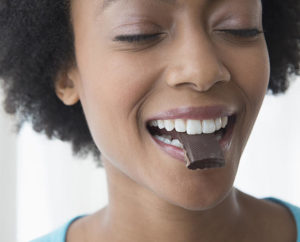 are proven to slow down the process of tooth decay.
Antioxidants are also built into each piece of dark chocolate. These antioxidants are great for overall health in addition to oral health. They have been proven to help fight gum disease, a condition than causes people to lose their teeth..
Keep in mind that tooth decay does not happen overnight. Problems with cavities build cumulatively and it is important to cut down on sugar intake overall, make sure to brush and floss daily, and see the dentist regularly for check-ups and cleanings.
Enjoy the dark chocolate and remember to keep moderation in mind. Call us at 215-568-6222 to schedule your free consultation with Dr. Cirka and Dr. Meier.  We look forward to hearing from you soon!