Newly single?
Is it accurate to say that you are attempting to get once again into the dating scene? Regardless of whether you are going out on dates or swiping on dating applications, you are attempting to establish a decent first connection. What is the primary physical trademark people rush to pass judgment on each other? Is it their profession? Would it be able to be their personality? Individuals' smiles are the main thing others notice when meeting unexpectedly. Hence, on the off chance that you are bouncing once again into the dating scene, you need to ensure you have a pleasant smile!
Whitening
Here at Philly Dentistry, we got you secured. We are teeth experts and can make any 'smile dream' work out. Discolored teeth? Come in for a brightening that can transform your smile up to 10 shades! In the event that that doesn't sound adequate, we have another brightening choice. We offer an at-home brightening treatment that will give you similar outcomes. What's the distinction? The main contrast is that you are in charge of the treatment and perform it on yourself at home. Try not to stress however, our group will furnish you with bit by bit headings to make the cycle overly basic for you. (BTW, our at-home brightening trays are discounted this May for $169!)
Invisalign
Are your teeth crowded, gapped, or misaligned? You may be a good candidate for Invisalign. Invisalign is as good as ever form of supports. At the point when your dating, you don't need wires and sections in your mouth like traditional braces. Invisalign tosses that old idea out the window. Fix your smile with Invisalign's undetectable specially designed aligners. Look at this infographic for additional about the treatment.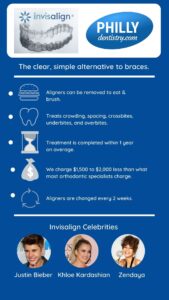 Veneers
Finally, in the event that you don't have the opportunity to brighten or fix your teeth with customary strategies, porcelain veneers could be the fix you've been searching for. Porcelain veneers are an astounding method to rapidly and effectively improve your grin. In around two visits, our group of rockstar specialists can change your grin. The best part about veneers is that you get to pick how you need your smile to look. You and the specialist will glance through shapes and shades to choose what might search best for your teeth.
Contact
Along these lines, in the event that you are getting once again into the dating scene and truly need to WOW your accomplices with an astonishing grin, call us. One of our colleagues will get you set up with a FREE new patient meeting and from that point, we will concoct a treatment plan together. We can promise you won't have any desire to quit grinning in the wake of finishing a grin makeover with our Philly Dentistry group!