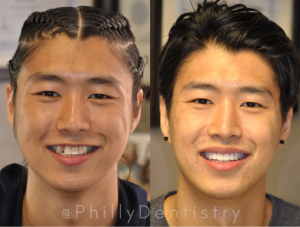 Porcelain Veneers – Ted Y.
Our patient first came to us after experiencing a bad car accident that left his front teeth damaged. The goal was to get him healthy again and to give him the smile he always wanted. Our hygiene team, EFDAS, and doctors all worked together to make it happen. Here is Ted's before and after photos with whitening and porcelain veneers! Ted also shared some kind words with us, "Dr. Jeon and her staff of hygienists and assistants, Jen and Alyssa,  took my case and did a beautiful job on my restorations.  They worked meticulously and the end result absolutely blew my expectations out the water! I had really bad experiences in the past with dentists, but with each visit their bedside manner was above the line of duty.  I actually look forward to coming in and don't mind the commute to get the best dental care in Philly!"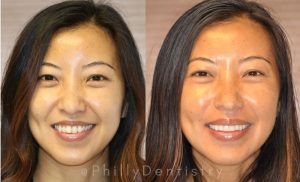 Porcelain Veneers – Debi T.
In the beginning, our patient was unhappy with the shape of her teeth. Our patient decided porcelain veneers were what she wanted to transform her smile! Our patient, Debi, was so happy with her results and left feeling confident as ever! "I've been coming here for over 5 years and I got my veneers here. I've been so pleased with my experiences. Dr. Jeon is amazing and very professional. I highly recommend Philly Dentistry!"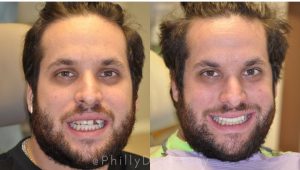 Dental Bridge – Ryan S.
Our patient came to us with an old bridge and in need of a brighter smile. After meeting with our doctors, we came up with a personalized treatment plan that would satisfy all of our patient's desires! Check out this before and after a new bridge delivery and ZOOM teeth whitening! Another smile makeover in the books. "Very professional and great customer service. I got some major dental work done and they were been amazing!" Thank you to our amazing patient, Ryan, for choosing us.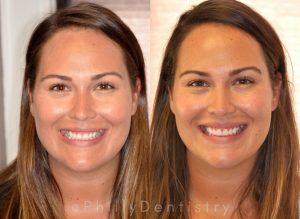 Porcelain Veneers – Kaitlyn F.
Here we have before and after some beautiful porcelain veneers. Did you know porcelain veneers allow you to customize the shade, shape, and size of your teeth? Our patient feels a lot more confident with the new size of her top teeth! Thank you so much, Kaitlyn, for choosing our office for your smile makeover!