There are many benefits to using floss and to using a WaterPik. Patients often ask me about which is better and if one replaces the other.
My answer to patients is always this: you should use what works best for you and what you feel most comfortable with. It really is a case by case basis depending on many factors that will be addressed below.
I do not believe that a WaterPik is a replacement for dental floss; however, for patients that admit to me that they hate flossing and won't do it, I do tell them to invest in a WaterPik.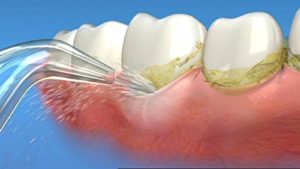 For patients that floss daily and are managing to keep their gum tissue healthy, I do not think a WaterPik is always needed. As long as the tissue remains healthy and I do not see changes, these patients can continue on with daily flossing.
There are things to consider when deciding whether to take up daily flossing or use of a WaterPik that I will review below:
Cost: Keep in mind that the WaterPik will be more expensive than floss. They range between $30-$100 and are easily purchased either in store or online. Ask your dental hygienist and doctor if they have a specific recommendation of which to use. It is important to note that the plug-in Waterpiks will have more power and better attachments to use than the battery-operated travel Waterpiks.
Ease and Dexterity: Though string floss is easy for some to use, it can take a long time to perform properly. There are also patients that have trouble positioning their fingers properly in order to reach each area of their mouths. For these patients I will often suggest trying a Waterpik to see if it is easier as an alternative solution.
Electric Outlet Availability: I think string floss is great because you do not need an electrical outlet. I keep my floss in my purse so that if I have a free moment I can easily grab it. It's also great in case I'm out and have something stuck in between my teeth. For the WaterPik most require an electrical outlet to work. As mentioned above, there are travel ones available that are battery-operated; however, they are not as powerful and do not come with as many attachments.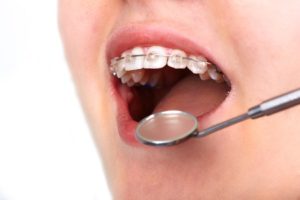 Patients in Braces: For patients in braces a Waterpik is a great tool. Since it is difficult to floss while wearing braces, it is common for the gums to become inflamed as plaque and food debris stick to the wires, brackets, and can be tough to clean. The motion of the Waterpik dislodges much of the food debris and plaque around the gums and brackets which help keep patients in braces healthier throughout orthodontic treatment.
Flossing Quality: In order to get the full benefit of the string floss, it is important for patients to use it properly. Below I will go over some tips for flossing; however, make sure to ask your dentist or dental hygienist for flossing tips next time you are in for a check-up and cleaning.
Flossing Tips from a Pro:
While flossing I find it easiest to use satin floss called Glide which is made by Oral-B. This floss never shreds or tears and it is gentle so I am not damaging my gum tissue.
Be sure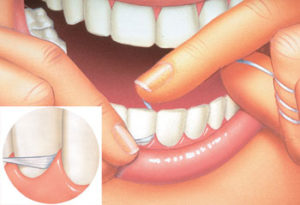 to wrap each side of the tooth fully, making a "c-shape" with the floss. This will allow you to get the floss underneath the gum line which is where the plaque starts to build. By moving the floss string up with a rotating movement and steady pressure, the plaque can be dislodged and removed.
Keep in mind you do not want to move the floss directly down into the tissue. This can not only damage the tissue it can also shove food particles and plaque deeper under the gums, making it harder to reach and more of a problem.
Hopefully these tips help! If you have further questions come see myself and Dr. Cirka for a free consultation where we check the health of your teeth and your gums. Hope to see you soon!
-Dr. Jessica Meier, D.M.D.