COVID-19 has changed many things in our lives. Throughout the changes, an important factor stays – health and safety. The health and safety of our patients have always been the main concern at Philadelphia Dentistry. We have implemented new procedures to ensure the best environment. All in all, these changes align with our consistent priority of health and safety, which is something our patients are already used to!
What to Expect: Before Your Appointment
When calling for your appointment, you will be asked some questions. These questions are asked to ensure no one who has been exposed to the virus comes into our office. For example, "Have you tested positive for COIVD-19," is one of the questions. You will be asked these same questions again when you show up for your appointment. This will ensure nothing has changed with your health since our initial phone call. We also ask that you limit the number of people you bring to your appointment. Ideally, our patients would come alone. Check out this video to watch our new building entry procedure. This shows you step by step on how to enter the building.
What to Expect: During Your Appointment
It is required that all patients wear masks to enter our building. When you arrive, you may be asked to wait outside until we are ready for you to come up. We do this to reduce the number of patients in our office and to reduce the amount of time you are close to other people. You will also have your temperature taken to ensure you are under the degree limit of 100.4° or higher. Expect to see your doctors and hygienists dressed in disposable gowns, double-masked, wearing face shields, and scrub caps. Rest assured; a friendly face is always behind the mask. Pictured is Dr. Mimi Jeon dressed in her PPE gear.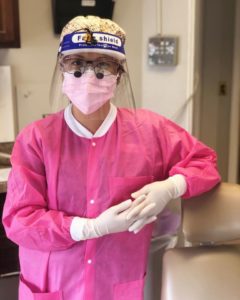 What to Expect: After Your Appointment
After we are all done, our staff will clean the room. Cleanliness is another thing we hold to a high standard. We want the best environment for our patients. For example, clean our rooms with disinfectants that are effective against the virus. We do this to prepare for the next patient, and frequently throughout the day. By keeping our office clean, we are reducing the risk of spreading the virus to others.
Maintaining good health involves coming to the dentist regularly. Therefore, don't forget to book your next appointment with us before you leave. To stay connected with us, follow us on social media @PhillyDentistry on Instagram, @PhiladelphiaDentistry on Facebook, and @DrKenCirkaDMD on Twitter!