At Philadelphia Dentistry we're celebrating Mother's Day the whole month of May! We appreciate everything mothers do for their kids and that's why we are offering $500 off Invisalign, plus free teeth whitening included. Invisalign is the best way to straighten your teeth without the hassle and embarrassment of those old fashion metal braces. Patients often have some questions about Invisalign before starting treatment. Here are the most frequently asked questions by our patients.
How many hours a day do I wear my aligners?
You should only be removing your aligners to eat and clean your teeth. So typically, you should be wearing your aligners for a minimum of 22 hours a day. The more often you wear your Invisalign trays the quicker your teeth will straighten, which means your treatment will take less time.
How do I clean my aligners?
Every time you remove your aligners to brush your teeth you should be cleaning them thoroughly by brushing the inside and outside of the aligners with cold water. Keeping your Invisalign trays clean are very important because they are in your mouth 22 hours a day. Failing to keep the trays clean can result in gum problems, tooth decay, and bad breath.
Can I drink while wearing my aligners?
At Philly Dentistry we recommend the only time to drink with your Invisalign trays in is when drinking water or cool clear liquids. Drinking dark beverages such as, coffee, tea, and wine may cause your aligners to stain. Also, you should not be drinking sugary drinks like sodas, energy drinks, sports drinks, juices, ect. with your retainers in because you run the risk of causing cavities and tooth erosion.
What happens if I don't wear my aligners 22 hours a day for the number of days specified?
If you don't commit to wearing your aligners for the assigned period of time as directed by your Philly Dentistry doctor your treatment cannot work. Each Invisalign tray needs to be worn anywhere from 150 to 300 hours each time depending on how much the tooth needs to be moved before the next set of trays can be worn.
Can my aligners break or tear?
Yes, your Invisalign trays can break or tear without the proper care. Do not eat with your aligners in because that can cause them to break. Also, removing them from your mouth the wrong way can tear them. The doctors at Philly Dentistry will instruct you on how to properly remove your aligners so they do not break or tear.
What do I do if my aligner breaks, tears, or is lost?
If something happens to your aligners during your treatment please call our office at (215)-568-6222. By calling our office we can decide if you're able to move on to the next set of Invisalign trays or if reordering the set is the best option. If we have to reorder the set it may be best for you to back up to your previous aligners and wear it while the replacement aligners are being ordered. If we do have to reorder a new set of Invisalign trays there will be a fee of $75.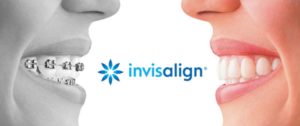 This $500 off Invisalign, plus free teeth whitening is valid to new patients. Offer ends 5/31/2018. So, don't wait and take advantage of getting those straight white teeth you always wanted.