Many patients when starting orthodontics wonder why they need to continue seeing their general dentist for check-ups and cleanings regularly since they are seeing the orthodontist every month. Dr. Cirka and Dr. Meier stress to each and every patient that is seeing us or seeing the orthodontist for braces or for Invisalign that it is extremely important to continue with regular check-ups and cleanings.
The most important reason to see the dentist regularly is so that the hygienist can remove the pl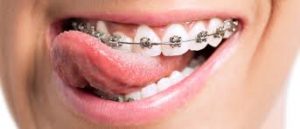 aque and tartar that builds up. With orthodontic brackets and wires, there are loads more nooks and crannies where bacteria can hide. Not to mention there are areas harder to reach to clean too. The bacteria that stick underneath the gums as well as on the teeth themselves also physically stick to these brackets and wires. These bacteria can cause cavities, gingivitis, and even lead to patients developing infection that affects the jaw bone and overall health of your entire body.
Another important motivation to see the dentist regularly while you are in braces is to protect the teeth from forming white spots on the surfaces. These white spots are called "decalcification" and happen as a result of the teeth losing Calcium, an important mineral that keeps the teeth healthy. These white spots are not only unsightly but they are also weaker and can transform into cavities more easily than other areas of enamel.
By seeing the dentist regularly for cleanings it will also ensure that you stay cavity free. If cavities develop during orthodontic treatment they can significantly delay the treatment time and patients can end up in braces a lot longer than initially expected. When cavities arise during orthodontics, often the dentist must ask the orthodontist to take off all of the wires and metal bands so the dentist can properly access the teeth and clean the bacteria. At regular check-ups and cleanings your dentist and hygienists can provide fluoride treatments, dental sealants, and many preventative measures that help keep the teeth strong and cavity free.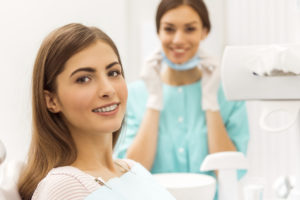 Keep in mind that for patients in clear aligner trays like Invisalign it is equally as important to see the dentist and have your check-ups and cleanings done regularly. Bacteria can build up around the attachments on the teeth as well as in addition to the areas where the orthodontist or dentist created space to help the teeth move.
See your dentist regularly for check-ups and cleanings both during orthodontics and afterwards to keep your teeth looking and feeling their best.
Call us to schedule a free consultation with Dr. Cirka and Dr. Meier at Philadelphia Dentistry at 215-568-6222 today! Hope to see you soon!