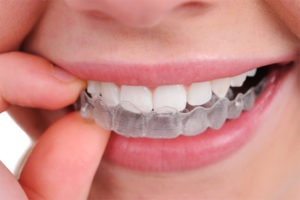 During the entire month of October, we are having an Invisalign special – $500 OFF an Invisalign treatment and free teeth whitening! Invisalign is compared to traditional braces a lot. The pros and cons outweigh each other immensely. Let's go through a few reasons why Invisalign is right for you.
Attractive
No one wants to be embarrassed by their smile. People think crooked smiles can only be fixed by metal braces. You do not need to worry about having wires and brackets in your mouth. Invisalign braces appear as invisible. These invisible braces are made with clear, snap on-snap off, plastic aligners. Most people won't even know you are wearing them. You will be getting results and feeling confident throughout the whole process.
Functional
Invisalign is able to correct a compound of dental problems. Invisalign can fix smiles that are crooked, gapped, crowded, or out of position. Your Invisalign trays are designed specifically to move certain teeth at certain times during your treatment. This ensures a painless treatment that will have your smile properly aligned over time.
Timely
Invisalign will allow you to spend less time at the dentist's office and more time living your life. You will be given 6 to 8 weeks' worth of Invisalign trays at each visit. From there, it will be your responsibility to wear them as instructed by your dentist. Your dentist will make things super easy for you and answer all questions. Visiting the dentist once a month is normal for a traditional braces patient. These appointments would involve painful adjustments of brackets and wires. Take advantage of Invisalign and avoid all inconveniences.
Same Diet
How annoying would it be to not be able to eat whatever you want? Dietary restrictions are put in place for traditional braces patients. Eating foods that are chewy, crunchy, or sticky can cause a break in wires or brackets. Invisalign saves you from having to think about this. Your aligners can be removed from your mouth whenever you want to eat all of your favorite foods!
Give us a call at (215) 568-6222 and come in for a free new patient consultation. We will get you all taken care of and set you up for your dream smile. To stay connected with us, you can follow us on social media. Follow us on Instagram @phillydentistry, Twitter @DrKenCirkaDMD, and 'Like' us on Facebook @PhiladelphiaDentistry