Recently, Philadelphia Dentistry personally handed out over 100 duffel bags to the homeless. These bags had many items in it that would be able to help the homeless during their difficult time. The duffel bags contained a water bottle, food, shampoo, body wash, towels, blankets, socks, scarfs & of course a toothbrush & toothpaste!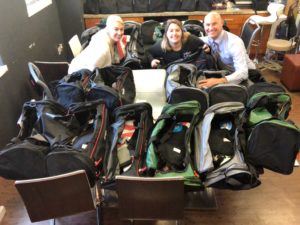 Our employees took several bags each to hand out to the homeless whenever they had a chance. Personally, I would use the time during my lunch break to find a homeless person to give a duffel bag to. The look on their face when they see a stranger helping them is priceless. It's such a great feeling helping someone in need even if it's just a small gesture like giving them a bag filled with useful supplies.
At Philadelphia Dentistry we continually work to improve the Philly community by volunteering our time each month to help those less fortunate. Dr. Cirka is a philanthropist who is active in the community. Whether it's the Muscular Dystrophy Foundation, American Cancer Society, Habitat for Humanity, Feeding America or the Boys and Girls Clubs of America, Dr. Cirka & Philadelphia Dentistry loves helping others. Check out our "Care to Share" page to stay up to date with all our recent volunteer efforts!