Here are some fun facts and a little history about the owner of Philadelphia Dentistry, Dr. Ken Cirka.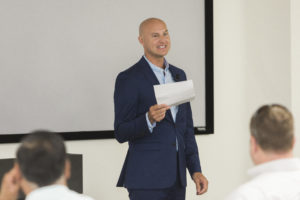 In 1987 he had his first real job at Burger King where he worked for 7 years throughout high school, college, and until he left for dental school. At 18 years old, he was a manager and at that time it was one of the highest producing Burger Kings on the East Coast. Dr. Cirka's mom is a simple woman, a retired high school cafeteria lady. Growing up in Baden, a small town on the bank of the Ohio River, he was never able to see across the river until the 1990s. Prior to that, the steel industry was booming. The steel mill's employment held the economy and people together. In 1989, the mills closed, his dad a steelworker his whole life after being a sharpshooter in the Marines had to move from home to a start a new career at the age of 52. The economy tanked and never recovered. The poverty level is 40.9% of the current residents in the county where he grew up. The air quality was better with the closing of the mills. No longer was there constant dumping of slag (the byproduct of steel manufacturing into the Ohio River.) No longer were there stories of 4-foot-long catfish getting caught in the river and for once you could see across the banks of the Ohio River.
There are thoughts and discussions to this day as to why some of the highest cancer rates occur in Beaver County where he is from. Possibly the steel mills? Unsure. The radon which is common in the area and untested for years, where most kids watched TV during their growing years in their basements where he is from because of the contaminated air. Other genetic issues seem common including his mom and both brothers having Muscular Dystrophy. To earn money to support the people with this disease, his dad would run a yard sale every year raising money for "Jerry's Kids" and even received a handwritten note from the comedian Jerry Lewis. Ken would dress as a clown and walk door to door on his paper route, collecting money. Later in the summers, he would attend Muscular Dystrophy Summer Camp where he would take wheelchair-bound kids into the pool which they would never have had the opportunity to swim, until summer camp. He was accepted into Keystone Boys State, a week-long program for 17-year-olds to learn about government and Robert Rules of Order and how to manage a group. He returned for the next 2 years to teach high school boys how to work together as a group to achieve Honor City for the week, the highest award for the week-which he received for 2 consecutive years.
Growing up very Catholic, Dr. Cirka decided to go to Grove City College, a local Christian college not far from his home. He became the first resident assistant at the college who also belonged to a housing group, which is another name for a fraternity. As the Vice President of Social Affairs for the college, he would plan and implement all the social events for the calendar year while staying within the budget guidelines. Occasionally, he would announce to the 2,150 members of the college community the events for the week in a chapel service. Being surrounded with religion, he sought out his purpose. He questioned his future, and tried to find his real "why" of living. He became a born-again Christian while in college and began leading Bible studies. Donating time, he went to Habitat for Humanity in Philadelphia, York, and New York City to help build houses and talk to people about Christianity.
During college, he decided to continue to help others. He always had an interest in medicine and especially dentistry. He applied to medical and dental school. During that time of the application progress, he was accepted into a summer program at Allegheny General Hospital in Pittsburgh. This program was to have three students interested in medicine to pair with a resident at the hospital. What the resident did, the student did too. First time wearing a pager, he would get paged and was expected to show up with the resident and see patients. One week in the oral surgery clinic, Bob Petcash, an oral surgeon saw him and asked Ken to assist on a wound on a patient's face. He was asked to hold a suction against the patients face. After the procedure, the oral surgeon asked Ken about himself. When Ken started telling him his background, Dr. Petcash said that his baseball coach was George Cirka. Ken discovered that Bobby Petcash who his dad talked about being a good baseball player was the oral surgeon that Ken was speaking with. They instantly hit it off. From that moment, Ken wanted to be a dentist, not a physician.
College was rough for Ken. Dealing with financial issues, working a job, going to college, a heavy workload and not getting good grades, Ken did not think that he would get into dental school. He applied, finished college 6 months early and started graduate school as his back-up plan when awaiting notice from dental school. The graduate program was a degree in counseling. He enjoyed working with people, so why not! Since he loved higher education, organization, and getting projects done he decided this would be the path that he would take. It was a surprise when he got home from his job as an admissions counselor from Slippery Rock University to his $150 a month one-room basement apartment with no windows, to see a large envelope from Penn. He opened it. He was accepted to Penn.
He left graduate school and his job of interviewing students and planning every weekend visitation for students interested in Slippery Rock University. He had to get ready as he was accepted into dental school! Jetting home, he decided that he would keep saving money and working as much as he possibly could until dental school started. The next day, Lori Hummel his only Mennonite friend invited him on a road trip. He hadn't started back at Burger King, so why not?! These were the days of no cell phones, no GPS and just a paper map and $150 a person for the week, our life savings. Driving from Pittsburgh to New Orleans and up the east coast in 7 days was amazing. Sleeping in a tent, cooking eggs on a fire and documenting everything in his journal, a book he still has to this day. Learning on that trip that he doesn't have many fears, but heights and that he can basically talk to anyone about anything. He knew that travel would be one of his goals when he could have the freedom.
On August 7, 1993 the director of admissions at Penn called, Claire Reichlin stated that he had not completed his English requirement and he had to defer for one full year before starting dental school. As usual, he shrugged it off and figured it was the universe telling him there is some reason that he could not or should not go to dental school at that time. The 7th year working at Burger King took its toll. He was ready to leave where he grew up. He had no money or means to get away and finally saved up enough to go on vacation. He jumped in his car and drove to Kill Devil Hills. This was the only trip since the one with Lori. His car broke down on the way when he arrived. $220 later, his timing belt was replaced. All his money gone and a night sleeping on the beach, his vacation was over. He drove home the next morning, back to Burger King.
Dental school was tough. Being out of school for a year and out of the groove of studying, he had a rough first year. As Vice President of his class at Penn and the desire to not go back to where he started, he excelled once treating patients. Treating patients, drilling, talking with clinical instructors and patients was the easy part. Graduation and starting his first job in Chester, PA was much welcomed. Gone from working for $9 an hour at Burger King after 7 years of service and finally a real job! Only one battle wound (bitten once since being a dentist) he helped his boss open 2 more dental practices. He grew and learned and became friends with the dentist owner who gave some advice that is not worth repeating and some other advice that guided him into his next job in Philly. At Gentle Dental, that afforded him the opportunity to save money, enough to start the practice, Philadelphia Dentistry where he currently is 15 years later.